---
Phone: 270-765-4517
813 Hawkins Drive
Elizabethtown, KY 42701
---
Download the Conder's Paintball Waiver
---
FREE Paintball with Good Grades. Click here for information.
PAINTBALLS
CUSTOM BLEND PAINTBALL
$47.00
Custom Blend Paintballs are an excellent every day aka field grade paintballs. They have a very round, consistent shell, and a washable fill which makes this paint great for speed ball practice or tactical woods ball play. You won't be disappointed
you can also buy them by the bag of 500 for $15.00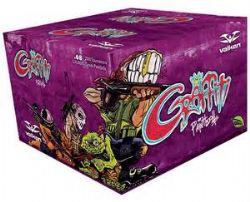 GRAFFITI PAINTBALLS
$50.00
Graffiti is a top-shelf paintball. It has great marking attributes, superior accuracy, and reliably breaks on target.
BAG OF 500 $15.00
Back to Inventory